NEW RANGE OF TRIP RELAYS K94
TRIP RELAYS (K94), DISCOVER THE NEW RANGE OF TRIP RELAYS WITH 4-8-12 CONTACTS. HIGH BURDEN AND MANUAL SET/RESET OPTIONS AVAILABLE.
The trip relay (defined with the acronym K94 in the ANSI standards) is a fast-acting relay designed to ensure a high switching speed together with a high breaking capacity in order to manage inductive and high direct current loads.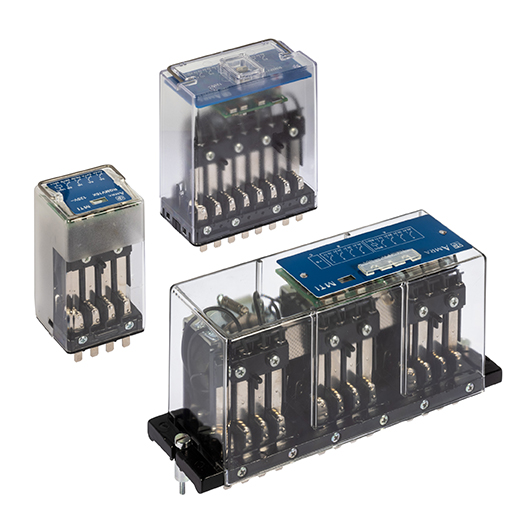 Main application:
This range of trip relays is commonly used in the switches control chains (both medium and high voltage) and more in general in all rapid fault extinction duty, where it is essential to place the system in safe conditions in the shortest possible time.
The RGMVX, RMMVX and RMMV relays are highly reliable products with high electrical and safety performance. Among the most important options that can be envisaged in this range of fast relays is found the HIGH BURDEN option.
The term HIGH BURDEN recalls the concept of "high immunity" or "imperturbability" to those disturbances that can form along the lines fed in direct current.
It is therefore important that a relay powered by long DC cables will be immune to capacitive discharges due to ground leakage from the power lines or from the propagation of induced lightning strikes.
The same term "BURDEN" also means "responsibility", and underlines the high responsibility for intervention / non-intervention for this type of component.
Thanks to the combination of size, surface and materials, the relay contacts are performing and reliable even in switching very low loads (a few mA) without resorting to gold plating treatments on the contact pads.
Available in versions 4,8,12 SPDT contacts, with magnetic blow-out and manual set/reset operation.
By clicking on INFO you can check out the complete range of these trip relay models.