The quality of a product includes not only the required funcions and performance aspects
Quality is about people, behaviour, and culture: a whole range of factors that can't be copied or certified. It's about creating a product that offers something that its competitors don't have.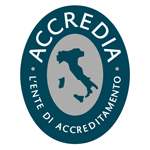 With a process dating back to 1993, AMRA was among the first Italian companies to certify its Quality System. The current certification, in compliance with ISO9001:2015, is a guarantee of the company's unwavering commitment to supplying products that meet the requirements of its customers in full, while simultaneously monitoring the level of satisfaction and following a process of continual improvement at all times.
Real quality comes at a price. The cost of a relay is almost insignificant when compared to the costs resulting from failure of a low quality component that can cause a system shut-down, the consequential economic losses, disturbances for the population, and damage to reputation.

The core mission is to create products developed in compliance with the technical and contractual requirements agreed with the customer, while simultaneously maintaining competitive pricing with respect to the market by means of planned control of production processes and economic and financial operations in the framework of business continuity.

The modern control equipment utilised, and the specially care taken in production testing procedures (100% of products checked) make it possible to supply components of high quality and reliability. Experience, and the continuous search for new materials, supported by specific tests for fire behaviour, stability through time, and shock and vibration resistance, have allowed our company to occupy a market position based on compliance with the various requirements of the energy and railway sector.
ISO9001 Certificate
Quality Policy
CHAUVIN ARNOUX – Quality since 1893
In compliance with the quality policy that has accompanied the company since its beginnings, the CHAUVIN ARNOUX Group offers its customers products that comply with international and national standards, manufactured in an ISO9001 and ISO14001 certified quality system.
ISO9001 Certificate
ISO14001 Certificate
Back