THE NEW PRIR SERIES: QUICK AND EASY WIRING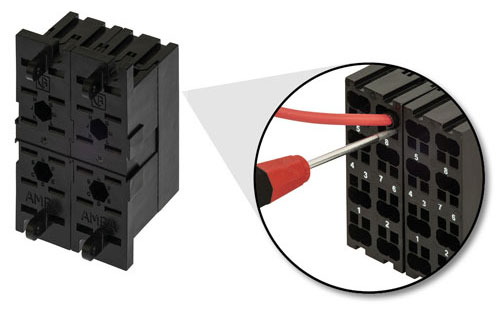 Equipped by SPRING connections, with high tearing resistance, the PRIR series allow quick and easy wiring, saving over 50% of the time compared to traditional wiring.
Can be used with the AMRA line relays and with many of the AMRA-MTI line, the PRIR series joins the PAIR series, with front connection.
Suitable for flush mounting, for back panel wiring. This allows increasing the relays density in the panels compared to a front wiring.
PRIR sockets can be used for both solid and flexible wires from 1 to 2,5 mm2, both with and without cable plug.
Each electrical connection has a double wire entry; this allows the connection of 2 wires for each relay terminal and to realize, for example, parallel or series connections and distribution of a common ground, directly on the "PRIR" series socket. It's possible the use of conductors with differing cross-sections, since the spring mechanism is separated for each wire entry.
The excellent contact pressure on the relay terminals, the high mechanical strength, the absence of internal welds, give the PRIR remarkable qualities of strength and reliability, making it suitable for use in the most severe applications, such as, for example, the use on rolling stock.