RMBX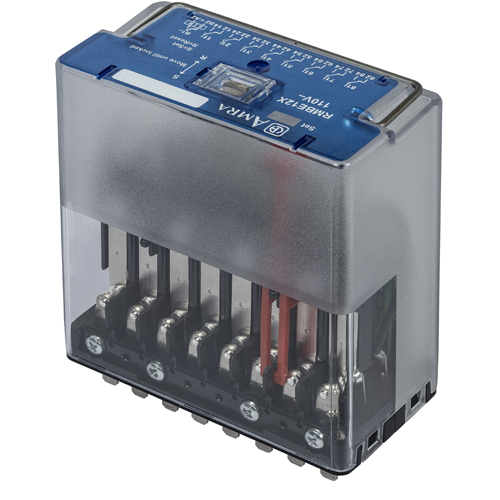 Specifications
Plug-in latching instantaneous relays with 8 contacts, 10 A
More compact dimensions
Automatic de-energization following operation, magnetic latch
Solid and rugged construction for intensive duty
Very high electrical life expectancy and exceptional endurance
Self-cleaning knurled contacts
Magnetic arc blow-out as standard
Manual operating lever and mechanical optical contact status indicator as standard
Wide range of sockets
Transparent cover, pull-out handle
Positive mechanical keying for relay and socket
Description
Very high performance relays with 8 changeover contacts, derived from the RMB series but having more compact dimensions.
Automatic de-energization. Minimum control pulse of 50 ms. Can be connected to a permanent or pulsed power supply.
Knurled contacts to provide lower ohmic resistance thanks to the multiple electrical connection points: extended electrical life expectancy of the component, optimal performance for strongly inductive DC loads and for very low loads, such as in the case of interface signals.
Exceptional breaking capacity for controlling very heavy duty DC loads, also with intensive switching frequency. Optional magnetic arc blow-out for even higher breaking capacity.
Elevated production versatility. Available nominal voltage from 12 to 220VDC/440VAC. Facility to adapt the products to meet specific application requirements.
The typical application sectors are among the most demanding, such as electricity generating stations, electrical transformer stations, fixed equipment for railways, rolling stock, or industries using continuous production processes (chemical and petrochemical, rolling mills, cement works, etc.).
Compliance with standards
EN 61810-1, EN 61810-2, EN 61810-7 Electromechanical elementary relays
EN 60695-2-10 Fire hazard testing
EN 60529 Degrees of protection provided by enclosures
EN 60077 Electric equipment for rolling stock - General service conditions and general rules
EN 61373 Shock and vibration tests, Category 1, Class B
EN 45545-2 Requirements for fire behaviour of materials and components – Product No. EL10 – Requirement R26, V0
ASTM E162, E662 Standard Test Method for Surface Flammability of Materials, Standard Test Method for Specific Optical Density of Smoke
Choose your Relay
close